Working From Home: 4 Ways To Level Up Your Productivity
2022 Is The Year You Master Remote Work
"We'll be transitioning to a remote working setup."
These announcements from employers were music to many ears in early 2020 at the beginning of the pandemic. Not having to leave the house & working in loungewear, it seemed like many dreams were coming true in front of our eyes. 

Image From Brightful.me
"This will be a temporary measure." 
Pandemic constraints are prolonging remote work, leaving many saying, "why not work from home moving forward?"
For forward-thinking companies, remote work is here to stay. Many working professionals must adapt to the evolving work environment to find career success in the future. 
Remote work does not come without its challenges. Struggling with work-life balance & pain points with communication. But what about the opportunities? 
Less transportation, more family time, & greater flexibility are significant benefits for remote workers Today. But we get it; achieving a higher state of living does not come easy as novel challenges present themselves. 
Flow state refers to being entirely immersed in a task or activity, which requires eliminating external distractions. Flow state is where meaningful work can be completed efficiently. 
Research shows you need about 10-15 minutes of uninterrupted attention to get yourself in this desired flow state. We like to say this is where true productivity begins. 
We understand that this is easier said than done when working remotely. We've put together some sure-fire ways to increase your productivity when working from home, helping you advance your career in this new reality. 
1) Eliminate Distractions
Image from entreprenuer.com
Screen Time
We live in a world where distractions are seemingly endless. We hold the entire world in our pockets, so don't feel bad if you find yourself checking that thing too often. 
It's no secret that screen time can eat up valuable time throughout the day, so developing a screen time routine can allow you to get your focus back.
While it's easy to sneak a few scrolls through Instagram when working from home, we recommend utilizing a downtime method to help you cut the bad habits. Do this, & productivity will follow. 
Apple users can limit the use of their devices at particular times of the day & even set daily time limits for specific apps. This tactic can be beneficial during "working hours," helping mimic device use as you would in a traditional office environment.
However you do it, ensuring you're mindful of your screen time habits can help you take back control of your mental energy. 
Work Environment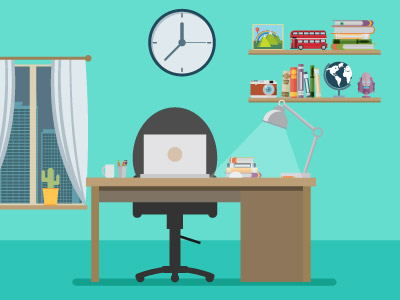 Image from recharity.ca
Phones are not the only enemy for successful remote work. The home environment itself can pose challenges. 
Home is where you typically unwind, spend time with family, & generally act differently than you would at work. Setting your surroundings up for a productive day is more important than ever as these two worlds merge. 
While you may have your family in the next room, setting boundaries during work time is critical. Consistent interactions with chit-chat & other normal home behaviour can derail your flow state. 
Remote work can leave you looking at your couch as a suitable workspace. You are human after all; who wouldn't want to kick their feet up & ditch their office chair? 
We recommend treating your home workspace as the place to do work & leaving the rest of your home out of it. 
Working in the places you use to relax can undoubtedly create issues around focus & productivity. But worse, it can make your entire home feel like your workplace. Issues around work-life balance arise, which will ultimately lead to you being unmotivated & burnt out. 
It's important to remind yourself that you're in this for the long haul & developing healthy remote work habits will allow you to give your best over the long term. 
2) Routine
An often-cited issue with remote work is that the day loses structure. While traditional office norms gave hints for breaks throughout the day, many lose that when working from their homes. 
Routine is more important than ever for remote workers. Without it, controlling your time throughout the day becomes problematic. 
Everyone is different. Therefore there is no one daily routine to follow for maximum productivity. What's important is that you develop habits around your working schedule to stay fresh. 
While you can find hundreds of tips & tricks for a productive daily routine, having one you can stick to will yield the best results consistently. 
3) Get Moving
Image from vantagefit.io
Today's virtual work environment requires extended time sitting in front of your screen. Sedentary behaviour is not good for your productivity or your health. How can you combat this? 
Scheduled 'Resets'
One of our preferred tactics can rejuvenate your energy & keep your mind fresh. 
Setting a timer for every 30-45 minutes, then taking a couple of minutes to get up from your screen, can effectively promote productivity & reduce brain fog. 
Get up, do a quick lap around your house, stretch, pump out some pushups, whatever you want. This strategy is a double win. It can help your work performance while, more importantly, improving your general health.
Get Outside
Over the past two years, having an excuse to stay indoors has been quite easy. Most people miss out on that fresh morning air they're accustomed to when working from home. 
Making time to get outdoors during the day is more important than ever. Outside air will leave you refreshed and ready to get back to work. When your house is now your office building, it's easy to feel confined to your space. 
To help break up your day, find time for a walk, drive, or even standing on your porch for five minutes. You will notice a distinct difference in your mental clarity. 
4) Bonus Tip: Drink Brain Fuel
Image from stack3d.com
We're confident you will succeed working from home with our productivity boosters above. But if you're like us, you're always searching for the next level.  
Brain Fuel could be a welcomed addition to your next-level productivity routine. Brain Fuel makes it easier to reach your flow state. 
Brain Fuel, a flavoured drink mix, is designed to boost energy while enabling your mind to work more efficiently. Utilizing natural ingredients, Brain Fuel can be consumed anytime throughout your working day when you need that extra boost. 
Be warned; you may not want to stop working. 
The New Normal Isn't So Normal 
The global pandemic has changed work forever, & those adjusting to remote work need to adapt their behaviours to find success in this new environment. 
Routines, habits, & environments are critical components to finding your highest level of productivity. 
Those who prioritize their health & wellness & come with a plan for success will reap the benefits over the long term.